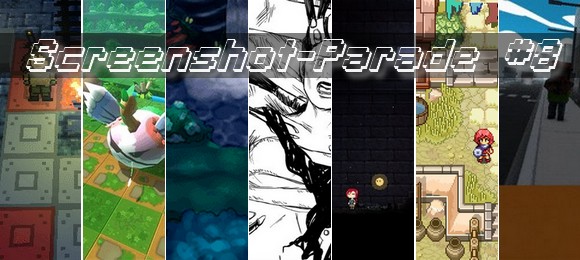 Die achte Parade war ziemlich viel Arbeit, denn leider fand sich unter dem Hashtag auch mal wieder richtig viel Spam, aber ich denke, die folgenden Projekte waren die Mühe definitiv wert. Abenteuer im Zelda-Stil, Spaß im Straßenverkehr, düstere Science-Fiction und vieles mehr.
---
Hazelnut Bastille von Aloft Studio
Dieses Action-Adventure könnte sowohl optisch als auch spielerisch fast als offizielles Zelda durchgehen.
Another Hazelnut Bastille Village scene: #indiedev #gamedev #pixelart #indiegame #screenshotsaturday pic.twitter.com/a2NUlsZXXg

— Aloft Studio (@AloftStudio) September 27, 2016
Dungeon Deities von Onepixelgames
Ein Hamburger Indie-Duo lässt euch durch Dungeons irren, die von anderen Spielern gebaut wurden.
One door opens, another one closes! Wait, no. That's the same one. Colorpanels in action! #gamedev #indiedev #indiegames #screenshotsaturday pic.twitter.com/Eu0NhRw6hd

— Onepixelgames (@onepixelgames) September 25, 2016
Legend of Lumina
Dieses Action-RPG will so ziemlich jeden aktuellen Gaming-Trend bedienen: eine Welt aus Blöcken, Crafting, Farming, Monsterzucht und Koop. Demnächst auf einer Crowdfunding-Plattform in deiner Nähe.
Probably the first boss you encounter @legendoflumina.#screenshotsaturday #indiegame #indiedev #gamedev #arpg #jrpg pic.twitter.com/XapbZKGJ4D

— Legend of Lumina (@legendoflumina) September 12, 2016
Dead Gear von Hidden Block Studios
Wen die aktuelle Welle an Indie-Metroidvanias nervt, der scrollt einfach weiter und der Rest freut sich auf einen hübschen Titel mit ein paar interessanten Ideen.
Facility in Dead Gear. Originally starting area; now played in endgame! #screenshotsaturday #indiedev #pixelart pic.twitter.com/lWk4wcDfxT

— Alex M-O | Wishlist Rune Fencer Illyia on Steam! (@AMO_Crate) September 18, 2016
Siklo von DrawOrDrop Studio
Ein schönes Beispiel dafür, dass man auch mit dem RPG Maker Spiele machen kann, die nicht komplett austauschbar aussehen.
Gotta add a couple more frames to the water animation, but I'm pretty darn happy with this map #indiedev https://t.co/cUPkc5njK3

— Siklo Game (@SikloGame) September 28, 2016
Crash World von Two Story Games
Der Straßenverkehr in GTA und Co. ist immer für einen Lacher gut und Crash World will das auf die Spitze treiben.
The police is just icing on the cake #indiedev #indiegame pic.twitter.com/f4QlGEezlD

— Crash World 💥 (@crashwrld) September 27, 2016
The Mind's Eclipse
Eigentlich bin ich kein Fan von Visual Novels, aber diese düstere SciFi-Geschichte könnte das vielleicht ändern.
Beware the Mind's Eclipse #scifi #screenshotsaturday #indiegames #indiedev pic.twitter.com/UyRIUwsEhY

— The Mind's Eclipse (@themindseclipse) September 24, 2016