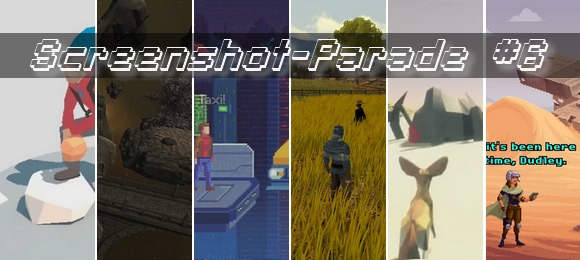 Runde sechs der Screenshot-Parade könnte kaum abwechslungsreicher sein. Es gibt einen einsamen Bergsteiger, futuristische Taxis und sogar ein Hauch von Star Wars ist zu verspüren.
Bevontule von Liminal LLC
Auf den ersten Blick sieht das Rollenspiel mit rundenbasierten Kämpfen nicht danach aus, aber Bevontule ist von zahlreichen JRPGs inspiriert worden. Wer mag, kann sich die Pre-Alpha-Demo anschauen.
Exploring Cephaline. You can too in our new demo! https://t.co/WGKbkypKY1#indiedev #screenshotsaturday #gamedev pic.twitter.com/R1ZYyJr0Av

— Wellspring: Altar of Roots (@wellspringrpg) July 9, 2016
Beyond the Dunes von Paul Conway aka DoomCube
Grandiose Pixel-Art und ein gewisses Star Wars-Flair machen die Geschichte von einem Mädchen und ihrem Droiden zu einem echt sehenswerten Adventure-Projekt.
Hello from the wasteland! #adventuregames #pixelart #gamedev pic.twitter.com/5QnI6NHB0c

— Beyond the Dunes (@beyonddunes) June 16, 2016
Massive Galaxy von "An indie developer"
Ein Sci-Fi-Taxi aus dem kommenden Space-Trader-Adventure Massive Galaxy, leider ohne Korben Dallas.
Taxi pickup, or maybe they just use Uber in the future? #screenshotsaturday #gamedev #indiedev pic.twitter.com/HB6mVEwuax

— Massive Galaxy Studios (@massivegalaxy) July 9, 2016
Mountaineer von Michael Zechner
In Mountaineer geht es hoch hinaus und dieser sympathische Kerl kämpft dabei nicht etwa gegen Monster, sondern mit schlechtem Wetter und dünner Luft.
https://twitter.com/miczec/status/751770613925212160
Setting Sun von deadhorse12
Fernöstliches Setting plus Gameplay von Diablo? Wer Throne of Darkness mochte, findet hier vielleicht endlich neues Futter.
OMG 100+ followers, thx a lot! As reward a preview of the Shinto realm! #screenshotsaturday #indiedev #gamedev #arpg pic.twitter.com/LhXGA1zRpH

— Setting Sun 💥Steam Demo now live!💥 (@SettingSun_Arpg) July 9, 2016


Vulpine von Clockwork Giant
In der offenen Spielwelt von Vulpine kämpfen Tiere ums Überleben …und offenbar auch gegen Riesenspinnen.
We've hooked up the AI for our monster! #screenshotsaturday #gamedev #indiedev #lowpoly #madewithunity pic.twitter.com/IxEzJFOEHy

— Clockwork Giant (@clockworkgiant) July 9, 2016