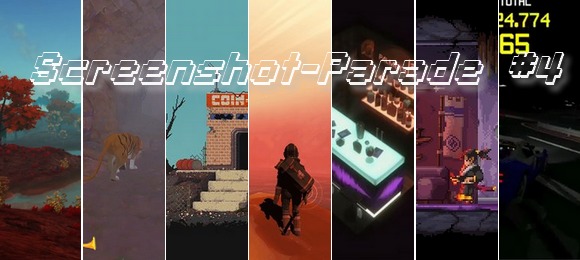 Die Screenshot-Parade geht in die vierte Runde und erneut habe ich viel mehr Projekte gefunden als ich hier unterbringen kann. Dafür sollte aber wieder für jeden etwas dabei sein. Also dann liked und folgt mal was das Zeug hält 🙂
after the nukes von backterria
Eigentlich ist backterria ja noch voll mit Dead Knight beschäftigt, aber irgendwie bleibt trotzdem noch Zeit für dieses postapokalyptische Projekt.
Nothing to say really.. 😛 #screenshotsaturday #pixelart #indiedev pic.twitter.com/0Qlf5IkCXx

— Backterria (@Backterria) 19. März 2016
Katana ZER0 von Tadakuni Amano
Ein Neo-Samurai, pfeilschnelle Action, schicke Pixel-Art und wummernde Beats? Hell yeah!
Teaser-Video
That feel when you're back from a week at #GDC16 #screenshotsaturday pic.twitter.com/F0bWWcieux

— Tadakuni Amano (@askiisoft) 20. März 2016
Make Sail von Popcannibal
Baut euch ein Boot und setzt die Segel. Interessantes Konzept und ein Look, der mich an die JRPGs der frühen 2000er erinnert. Hier gibt's mehr GIFs.
working on an awesome storm wall, a little late but #screenshotsaturday whatever, it's cool #indiedev pic.twitter.com/ACQKfyAz4D

— Luigi G is me (@LuigiGland) 20. März 2016
No Trace von Square Mountain
Square Mountain zeigen den Prototyp einer stylishen Bar für ihr kommendes Top-Down-Stealth-Game.
Welcome to Palmer's Nightclub! Another level concept we're working on. #screenshotsaturday #gamedev #indiedev pic.twitter.com/4K5Kqqt8Hh

— Square Mountain (@SqrMountain) 19. März 2016
Racing Apex von Lucky Mountain
Mit Racing Apex verspricht Lucky Mountain eine Zeitreise in die 90er, als Arcade-Racer noch nicht zu einer bedrohten Art gehörten. Bitte mehr davon!
Drift into the night in Racing Apex. #screenshotsaturday #indiedev #gamedev #unity3d #racingapex #drifting pic.twitter.com/CIbXdYyJiw

— Racing Apex (@RacingApexGame) 20. März 2016
Stones Throw von Kree Diddy
Chris tweetet regelmäßig farbenfrohe Landschaften und einige davon landen auch in seinem chilligen Pseudo-Golf-Game Stones Throw.
Working on 5th stage in #StonesThrow #screenshotsaturday #gamedev #indiedev #madewithunity pic.twitter.com/QynsxkJaEN

— kree diddy (@KreeDiddy) 5. März 2016
The Wild Eternal von Scott Goodrow
Ein Tiger geht bei der Jagd im 1st-Person-Exploration Game The Wild Eternal.
Look who I found! Any guess what happened next? 😐 #TheWildEternal #screenshotsaturday #indiedev #gamedev pic.twitter.com/fvKvQMecYU

— Scott Goodrow (@ScottGoodrow) 19. März 2016